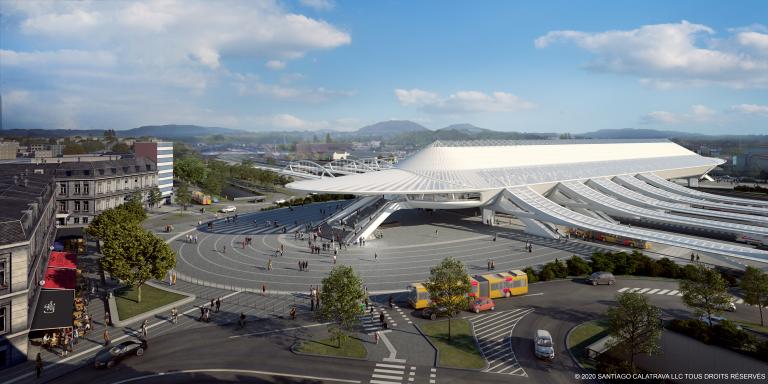 The Mons multimodal station project is a component of the country's major station modernization program, which aims to achieve two key objectives:
the reestablishment of the connection between the districts through the stations, thereby enhancing their accessibility and development.
the optimization of intermodality.
The project involves the construction of a station footbridge gallery spanning the railway site and linking the city center to the Grands Prés site, which is renowned for its vast shopping center. This 182-meter-long structure will be constructed using glass and steel and will feature shops and offices.
Additionally, the project entails the platform coverings and the construction of two single-level underground car parks:
the North car park, on the Grands Prés side, capable of accommodating 350 vehicles,
the South car park, on the Place Léopold side, with a capacity of 450 vehicles, which includes technical rooms and accommodations for SNCB and TEC personnel.
The new station will also feature a nursery with a capacity of 25 children, situated in the area adjacent to the North car park.
Our mission(s)
TPF Engineering provides the complete engineering mission in technical building services (electrical installations, high voltage cabin, HVAC, sanitary, fire protection, smoke extraction, skylight, drainage and surroundings) and the EPB mission.