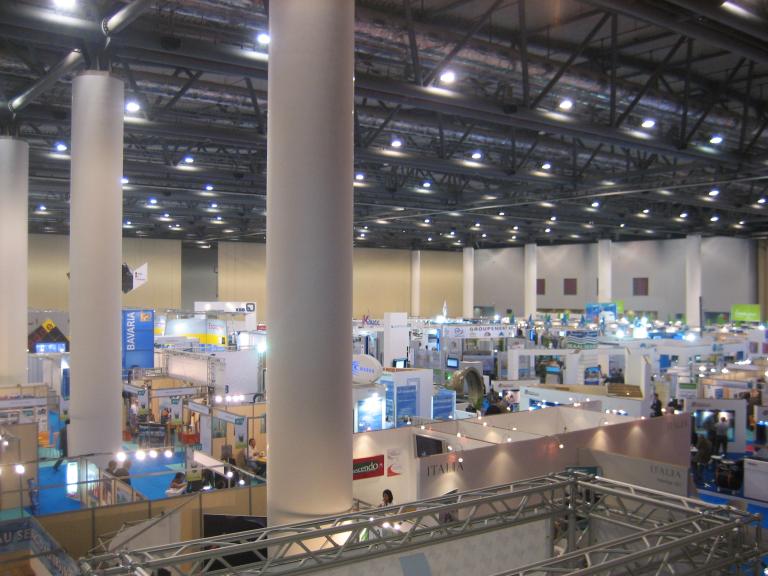 Mohamed Benahmed Convention Centre
The Mohamed Benahmed Convention Centre has been designed as a modular structure that can be adapted to any group and event   
The project involved the construction of:
an Exhibition Centre (39,000 m², 12 m high) including 15.283 m² of exhibition space (capacity of 208 stands), 42 offices and 6 meeting rooms,
a Congress Centre (46,610 m²) including  an auditorium with a seating capacity of 3,000 people and capable to host events of all kinds (conferences, concerts and fairs), rooms  with simultaneous translation equipment, an asssembly hall with a capacity of 1,000 people, 20 multi-purpose rooms, each for groups from 50 to 100 people, a restaurant  having a seating capacity for up to 2,000 guests and an area reserved for the Heads of State,
a 5 star hotel with 320 beds and a total area of 33,000 m² (outside the scope of our contract),
an underground car park (16.000 m²) with 500 spaces. 
It concerned also laying out the area around the Convention Centre (road accesses) and the associated infrastructure.
Total built-up area of the project is 98,610 m² and the surrounding area 51,960 m².
Our mission(s)
Detailed Design and Supervision of the installation of the mechanical, electrical and special systems