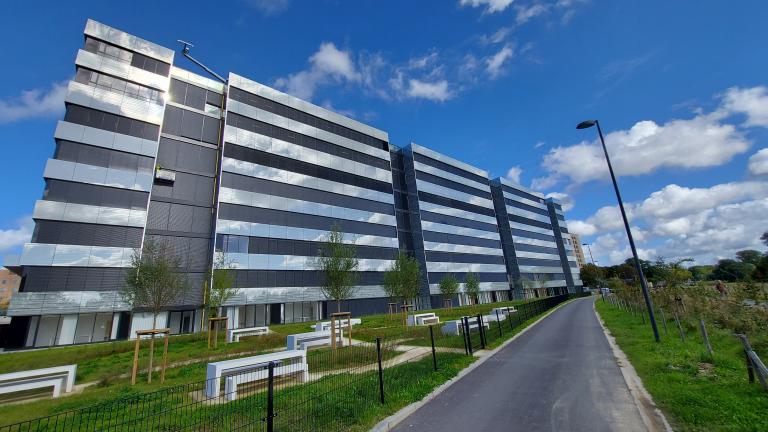 The new Jules Bordet Institute, an international reference center for cancer treatment, is situated on the campus of the Free University of Brussels (ULB) in Anderlecht, and comprises 250 approved hospital beds along with 40 day oncology hospital beds and places.
The building is constructed around a central axis, spanning nine floors and integrating advanced care, research, and training facilities.
Specifically,
The lower ground floor (00) accommodates the reception, cafeteria, and day hospitalization activities.

The upper ground floor (OH) comprises the offices of healthcare professionals, administrative services, and an auditorium.

The first floor (+1) is dedicated to hospitalizations, including medical oncology and hematology, oncological intensive care unit, emergency department, metabolic rooms, etc.

The second floor (+2) is reserved for surgical activities and operating areas, such as the post-anaesthesia care unit, etc.

The third floor (+3) is occupied by technical rooms and administrative areas.

The fourth (+4) and fifth (+5) floors consist of clinical and translational research laboratories, as well as the cell therapy unit.

The sixth floor (+6) houses technical rooms, HVAC installations, and the boiler room.
Regarding the underground levels:
Level -1, partially buried, contains the bunkers, radiotherapy rooms, pharmacy, and nuclear medicine unit.

Level -2, entirely underground, is devoted to car parks, technical rooms, the morgue, logistics, and staff changing rooms, etc.
Architecturally, the new Jules Bordet Institute has been designed to maximize natural light and provide optimum patient comfort with shorter journeys. It is also adaptable to future changes in the building and equipment.
Our mission(s)
The mission of studies and monitoring of the execution of the works for structural engineering and technical building services was carried out within the framework of the Temporary Association BRUNET – BETEREM – TPF ENGINEERING and concerns:
heating, ventilation and sanitary installations,

electricity, strong and weak current as well as the elevators,

medical fluids,

radiotherapy bunkers: 3,300 mm thick concrete walls designed to block Gamma radiation (6 and 18 Mev); 1300mm thick, high density, lead iron powder brick (Verishield) walls; lead doors + paraffin (30 T); technical corridor on the lower floor,

modular design (Rubicks Cube),

100% AF ventilation and cooling by climatic ceilings,

the floor-slab structure,

operating rooms equipped with laminar flow (class 8 premises),

lab areas, medical imaging, operating rooms, radiotherapy and curitherapy,

ISO 8.7 and 5 rooms (clean rooms: operating quarters (QOP); Hematology, USPA post-anaesthesia care unit, etc.), 40 air handling unit (CTA)

extracting and sprinklering parking lots and unloading docks,

fire protection (high building),

power supply (2 x 8 transformers of 1000 kVA)
TPF Engineering also carried out the mission of assistance to the EPB Advisor.